Nancy Moyer
Professor Emerita Of Art from UTPA
Is Inviting You To Visit Our Gallery
And Get A free Entry To Our Inaugural Art Event
Self: An Exhibition Of Self representation
& Imagination
Which She Described In A Recent Monitor Artitcle As
Surface Treatment: Self The Contemporary Art
http://www.themonitor.com/life/valley_life/article_13abf968-2453-11e3-a908-001a4bcf6878.html
click on above link to read what
the Prof. said about our free exhibition
She was very clear in her invitation
Kindly click and read to accept her invitation to self.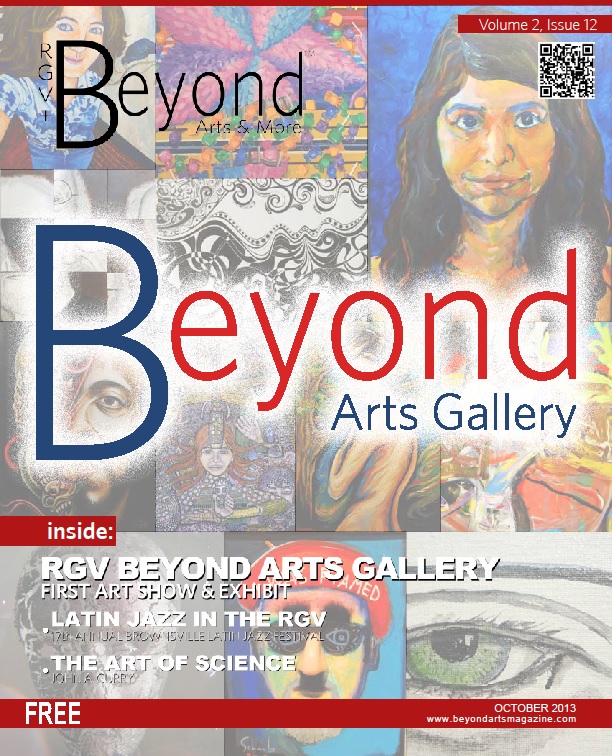 Click on image for a details.
Our october Issue is a dedication to our inaugural exhibition. Self, as it makes the cover of this month's magazine and more details inside. Click anywhere on the image to take you to our website and enjoy the Oct. issue of your favorite magazine.
We Are All About Arts. We Are All About People. We Are All About You.
www.beyondartsmagazine.com
Litewill Holdings, LLC
RGV+Beyond Arts Magazine
A Monthly publication of Sarah Book Publishing In Support Of Arts, Culture,& People. 

Tuesdays – Fridays 9am to 5 pm
Saturdays 10 am to 5pm
Closed Sundays and Mondays
Beyond Arts Gallery Debuts In Downtown Harlingen Sept 12. 2013
WE ARE WORKING ON A LAPIDARY LAB
WE ARE WORKING WITH LAUREL BECKER
TO BRING TO YOU IN THE VALLEY
AND BEYOND
LAPIDARY CLASSES
STAY TUNED TO FIND
Find out more
                                           
 Its All About Arts. Its All About People. Its All About You

Click On Any Of The Issues To Enjoy A Full Splendor Or Our Tributes To Arts
Prof. Nancy Moyer
Recommends Self
Treat Yourself to a good time
http://www.themonitor.com/life/valley_life/article_13abf968-2453-11e3-a908-001a4bcf6878.html
click on lick above
"So drive over to Beyond Arts Gallery for SELF and don't rush your visual pleasure"
Our CEO is requesting your visit as well
Enjoy Arts
Feel The Power Of Music
Good Cooking and Food
The Social Connect For Event
Photography At His Best
Scholarly Activities Like No Others
Syndicated Articles For Your Delight
Spiritual Enhancement
Random Musings
Arts From A Cowboy's Point Of View
Community Lenses
Young Talents
Affiliation With Public Broadcasting Services, PBS.

Health, Wellness and Science Report
Fashion With Simplicity, Elegance And Style